Recommendations for barrier-free, digital teaching
What needs to be considered?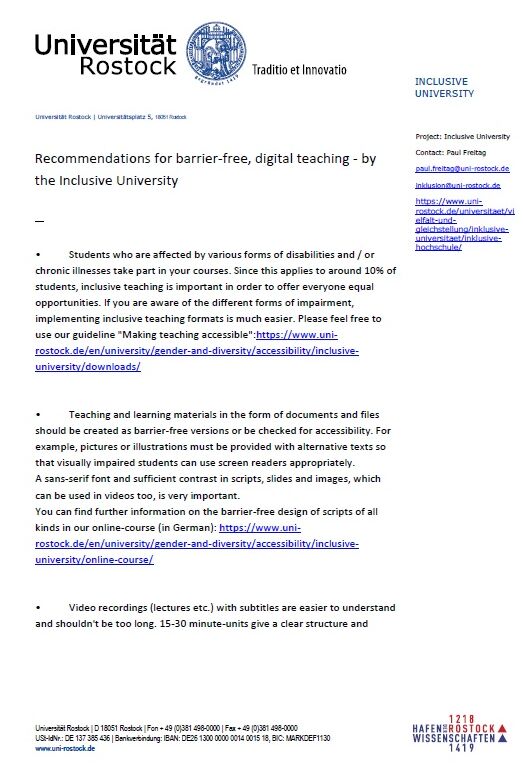 Due to the Covid 19 pandemic, the summer semester 2020 will take place mostly digitally, without face-to-face events. For lecturers, this means various new challenges, such as switching to other teaching formats and a higher workload implementing these formats. But online teaching also brings a number of advantages, in particular for the accessibility of courses, when online courses are offered in the form of scripts, commented presentations, audio or video recordings. For the participants, it is no longer neccessary to reach the university and its buildings, which are not always accessible. The sound quality of recordings is usually much better than the acoustics in the lecture halls or seminar rooms. By providing asynchronous forms of learning, not only the place, but also the time may be freely choosen. In addition, psychologically impaired students, such as those with social fears, would feel more comfortable if they can participate in video conferences without image transmission or with an avatar.
Nevertheless, there are a few things to consider in order to actually make online teaching accessible. In addition, increased personal responsibility and good self-management pose new challenges for many students when it comes to online teaching, so a certain "timetable" should be specified for each module.
These recommendations are meant to support and give helpful suggestions in order to make your digital teaching more accessible. The Inclusive University project members wish you great success and are happy to answer your questions. A manual for barrier-free teaching is currently in the making and is expected to be published on the university's website in June.
Download it here: